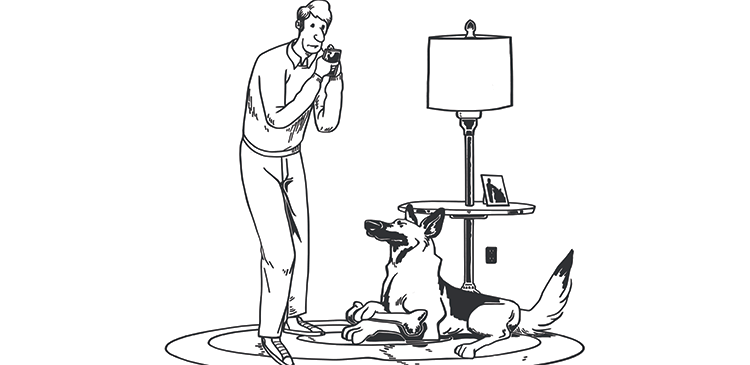 Like a Dog With a Phone – Why Marketing MUST Begin With Mobile
Steve de Mamiel
By Steve de Mamiel, Filed under: Artificial Intelligence, Buying Journey, Marketing, Sales, Smartphones Comments: Comments Off on Like a Dog With a Phone – Why Marketing MUST Begin With Mobile
SAMUEL SAYS: MARKETING BEGINS WITH MOBILE.
Since our society has come to expect access to whatever we want in just one click, businesses that overcomplicate the process alienate themselves. Simply put, if your marketing efforts aren't mobile centric, then you aren't serious about client engagement. But you want to be, which is why you're here, right? So let's talk about how to be successful in your efforts.
You can see an amazing level of detail about your clients by looking at Google Analytics, and that information will help you tailor your content to the people who visit. By doing so, you create a hard-to-resist personalized experience. We teach the grainy details of how to do it so our clients can be self-sufficient interpreting that data.
Now that we are able to make real-time adjustments to our marketing efforts and react to the ever-shifting trends of buyers, it means that we have to move about seven times faster than we used to. Gone are the days of writing an annual marketing plan. Through the use of A/B testing, teams can learn how effective their efforts are immediately – and adjust strategy accordingly.
Analytics and Google Alerts allow you to learn things like:
Where are people looking for information?
Who is generating content about you?
Where is the content coming from?
Are others engaging with it, and how?
What are they saying?
Is the content being shared?
Think about it: When most people wake up in the morning, they turn off the alarm on their smartphone and start looking for updates on things like sports scores, emails, news stories, and stock prices. We need immediate information and are skeptical of businesses that don't have websites. People don't answer their phones anymore unless they already know who is calling. Our days begin and end with our smartphone – so shouldn't our marketing plans do the same?
BEST IN SHOW:MASTERING YOUR DIGITAL MARKETING PLATFORM
1. Know the typical searches for your industry.
What are people searching for online?
Where are they searching?
How can you incorporate that information on your mobile and desktop platforms?
2. Measure your success.
How are people behaving when they visit your site?
What pages are they spending time on?
What is their flow through the website?
Where are they leaving the website? Can you test why they are leaving?
3. Engage with your audience.
Are you dealing with social media commentary about your business or industry?
Make yourself an integral part of the conversation, which is a mark of business maturity.
Digitally sophisticated companies have moved from pushing content out to engaging in and being a part of the online conversation.
In The Mongrel Method we share detailed ideas for how to master your digital marketing platform, and it's also a big part of our consultancy business. We can help with Coaching, Consulting, and Keynote Speeches.
We at Mongrel Method are pleased to publish a 10-part series of blog posts where we share an overview of each chapter of Steve's book, The Mongrel Method: Sales & Marketing for the New Breed of Buyers. The Mongrel Method teaches sales and marketing tactics for the technology age using the fun -and memorable- personality of Steve's dog Samuel to help the concepts stick. You can buy your copy here:  https://mongrelmethod.com/buy-the-book/