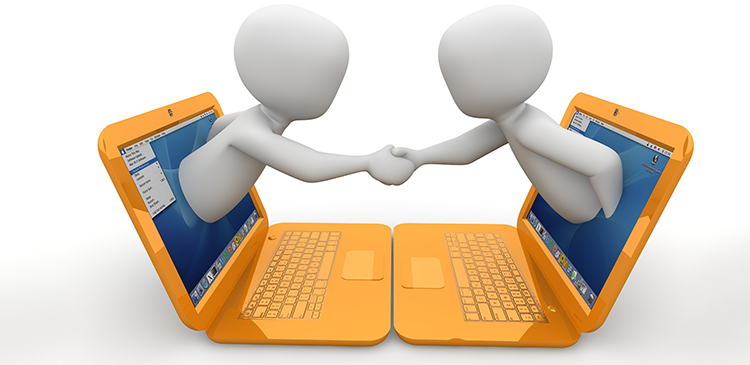 Artificial Intelligence and Chatbots: Their Impact on the Sales and Marketing Conversation
Steve de Mamiel
By Steve de Mamiel, Filed under: Artificial Intelligence, Buying Journey Comments: Comments Off on Artificial Intelligence and Chatbots: Their Impact on the Sales and Marketing Conversation
You've probably interacted with them and didn't even know it. In fact, research by Oracle states that almost 80% of businesses plan to use them by 2020*. You don't have to wait for them to return your voicemail and they are around when you're suffering with insomnia at 2am. Thanks to advances in software, their responses are so natural, you might not even realize you're talking to a computer. They make our lives as consumers work at a pace of our own choosing.
So how can chatbots make your job easier?
I know what you're thinking. Sales is all about personal interaction, and there's no way that a bot could replace the very skilled manner in which you field inquiries, right?
Wrong.
Sure, when they first came to use, chatbots were clunky, unpolished, and frustrating. You could ask them what hours a store was open and they might reply, "We're sorry but the store is now closed. Please call back during business hours." I understand where you're coming from.
Most salespeople worth their salt assume that consumers will push back against chatbots. But the opposite has been shown to be true. In the age of immediacy where we now operate, consumers don't want to wait for answers. And let's face it: we exist in a global economy. The use of chatbots means that a sales effort can become a 24×7 operation instead of being restricted to office hours that may not suit your customer.
Imagine coming in to work, and having a pre-qualified list of inquiries waiting for you, from people who already know your business specialty and really want to hear more. You're able to focus on what matters most –building a relationship with your clients- instead of sorting leads to people more appropriate to handle them.
Most businesses are dipping their toe into the depths gently, by starting with basic queries such as hours of operation, product options, and costs. But as advanced as the technology has become, your consumers can immediately receive images, specs, and detailed information on the product that suits them most. Ultimately bots will be able to –in some cases- navigate the entire sales process.
When you as a salesperson can begin your interaction with consumers by already knowing what they're looking for you can concentrate on building the rapport that helps you gain a lifetime client. Since there's not a pressure for the sale via chatbot, your clients have an easy, comfortable first interaction with your business.
There's another handy reason that chatbots are valuable. Through their use, a business gains information about its clients, like where they're from and what else they're buying and researching. The marketing department can then ensure that targeted ads get in front of the right people for ultimate exposure.
We can agree that, when done poorly, chatbots will absolutely backfire. But businesses who are open to the use of chatbots see tremendous benefits:
Initial inquiries are fielded on the client's timeframe.
Leads are automatically sorted to the best person to handle them.
They are a fast and intuitive way for users to interact with your brand beyond the limits of time and space.
Salespeople are able to spend more time building relationships than sharing spec sheets.
The marketing department gains valuable information on your clients and where they come from.
Mongrel Method helps businesses take their first steps with chatbots, and can assist seasoned users in maximizing their effectiveness. We'd be glad to help you do the same. Please share your story and questions with us here: https://mongrelmethod.com/contact/
* Can Virtual Experiences Replace Reality? https://www.oracle.com/webfolder/s/delivery_production/docs/FY16h1/doc35/CXResearchVirtualExperiences.pdf