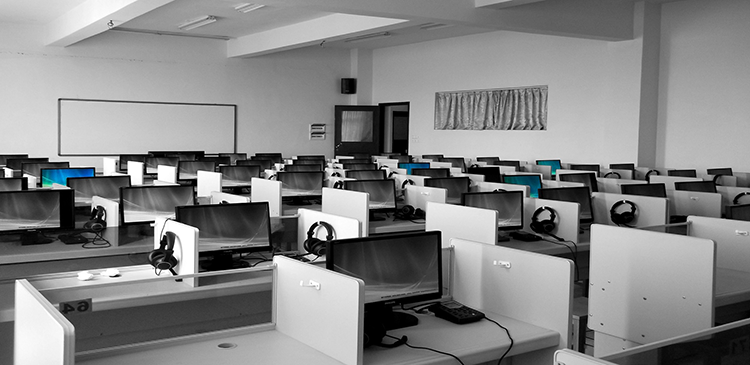 How Companies Grow Without Salespeople
Steve de Mamiel
By Steve de Mamiel, Filed under: Artificial Intelligence, Marketing, Sales, Technology Comments: Comments Off on How Companies Grow Without Salespeople
It's well known that some businesses have had freakish success in growing their business when their Sales Department looks like this empty office.
In fact, Slack Technologies launched in 2014 with just 16,000 subscribers from their beta group. By the end of the year, they had amassed 285,000 users – all without a sales department working on growth. Today, their messaging platform supports more than 2.5 million users, and they claim they may never create a sales department. Similarly, Atlassian built their enterprise software company to a $620 million valuation over the course of 15 years – without hiring sales people.
Why should that matter to you?
Let's face it, companies like these aren't the norm. Let's begin by diving a little further into why they were able to grow so massively without sales people.
First of all, neither company created software and then tried to figure out how to sell it. Both focused purely on the pain points that companies were experiencing and fixed them. They learned quickly who their users were and only put their products in front of companies with similar needs.
Further supporting their growth is the fact that users became advocates. Because the software so fully fixed their own concerns, users shouted its praises from the rooftops and shared it with clients.
By focusing first on the end result of solving a problem, and then working backwards, they thoroughly understood anything their users might encounter and had already solved. They removed risk too. Their free trial and simple installation let buyers test suitability with a no-worries test drive.
Both tech giants also removed the hard sell and upsell. They clearly described the available levels of service and let users select the commitment level they are comfortable with. They simply got out of the way and made it possible for their clients to opt in to a service that solved their communication woes.
Am I saying that this is the beginning of the end for sales people? By no means. HOWEVER I am saying we should adapt the concept to an extent.
What if we considered that service opportunities ARE sales opportunities? Think about your future this way: Now that buyers are further along in the decision-making process before we meet them, we as sales people primarily enable their purchasing decision. Instead of a team of salespeople, we are a team of relationship builders who listen to clients to fully understand their needs, and make it possible for them to purchase. It sounds a lot easier for both sides of the equation, doesn't it?
How do we incorporate this shift in thinking?
For one thing, inbound marketing is much more intense and agile now, so when we interact with a potential client, both sides already have an understanding of the other's position. Chatbots and AI (which we will discuss in a future post) can be used to field initial inquiries and set the stage for a much more comfortable conversation. It allows us to focus on the person first and not a quota. As relationship builders, our roles are different but have the same result. Scratch that – we have much better results.
I'm not advocating the deletion of Sales Departments all over the world, but there's much to be learned from companies who have been successful without them. Here's the highlights:
1. Solve pain points first and put your product in front of people experiencing them.
2. Create advocates and make it possible for them to spread the word.
3. Remove risk by eliminating objections up front.
4. Consider that every service opportunity is also a sales opportunity.
5. Remove barriers and enable buyers to choose your solution.
6. Stop thinking of yourself as a salesperson, and focus your energies on being a relationship builder.
Much of what we do at Mongrel Method is helping organizations develop practical roadmaps for changes like these. I'd love to hear about your experiences. Reach out and share your story here: https://mongrelmethod.com/contact/